10 out 147 8122 results. Refine criteria for best results.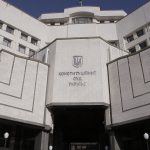 Publishing Date: October 29, 2020
The Constitutional Court of Ukraine denied the National Agency on Corruption Prevention (NACP) the access to State Registers required for conducting a special check of declarations of candidates for leadership positions in the state bodies. Without this check, no head of state body can be officially appointed. The CCU basically blocked the implementation of local election results. As the appointment of candidates elected to positions, in particular the heads of Oblast and Rayon Councils and their Deputies, is possible only after they undergo special checks. "By its decision, the Const...