10 out 165 8122 results. Refine criteria for best results.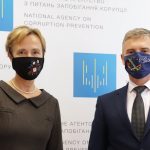 Publishing Date: November 3, 2020
On November 3, Ambassador of the Federal Republic of Germany in Kyiv Anka Feldhusen and Head of the National Agency on Corruption Prevention (NACP) Oleksandr Novikov conducted a working meeting. During the meeting, the parties discussed topical issues of preventing and combating corruption in Ukraine. They also exchanged views on the situation in the country after the adoption of the Constitutional Court of Ukraine (CCU) Decision of 27.10.2020 No 13-r / 2020. The meeting of the NACP Chairman with the Ambassador was scheduled in advance. "We are grateful for the support of the Embassy ...