10 out 165 8122 results. Refine criteria for best results.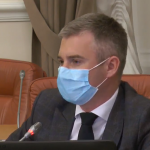 Publishing Date: April 15, 2020
On April 15, at a meeting of the Cabinet of Ministers of Ukraine, Head of National Agency for the Prevention of Corruption (NACP) Oleksandr Novikov presented a draft National Report on the Implementation of Anti-Corruption Policy Principles in 2019. The report is prepared annually by the NACP to assess anti-corruption measures in Ukraine, identify key issues in the implementation of anti-corruption policy, and provide recommendations to government agencies on actions needed for the improvement of anti-corruption efforts. "The national report we are presenting today is the first step tow...