10 out 113 8122 results. Refine criteria for best results.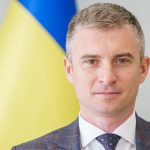 Publishing Date: March 29, 2021
Today (March, 29) at 5:00 pm (GMT +3) Head of NACP Oleksandr Novikov will take part in online discussion Ready for reform? Upholding for the rule of law in Ukraine. The event is organized by the Atlantic Council. Join the event to learn about the following: - challenges facing the NACP; - work of anti-corruption institutions in Ukraine; - constitutional crisis in Ukraine; ⁃ implementation of reforms in Ukraine. Among the other speakers of the event: Anastasia Radina, chair of the Verkhovna Rada's anti-corruption committee, Sergii Ionushas, deputy chair of the Verkhovna Rada's law ...