10 out 138 8122 results. Refine criteria for best results.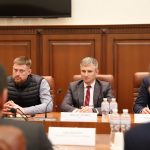 Publishing Date: November 25, 2021
Head of the National Agency on Corruption Prevention (NACP) Oleksandr Novikov, the European Bank for Reconstruction and Development (EBRD) Vice President of Banking, Alain Pilloux, and the newly-elected Vice President for Policy and Partnerships at the EBRD, Mark Bowman held a working meeting within the EBRD's leadership official visit to Ukraine. At the talk, the two sides paid attention to the draft Anti-corruption Strategy for 2021–2025 that awaits the adoption by the Verkhovna Rada of Ukraine in the second reading and its main priorities, the main obstacles the anti-corruption bodies fa...