10 out 154 8122 results. Refine criteria for best results.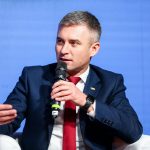 Publishing Date: December 9, 2021
"It has been the first seven years that Ukraine systematically prevented and fought against corruption. In the National Agency on Corruption Prevention (NACP) we believe that equal and fair rules for all will automatically help corrupt officials to become honest. For this purpose, the most effective tool is the Anti-Corruption Strategy. Let's adopt the Anti-Corruption Strategy and in five years we will see a different country", stated the Head of NACP Oleksander Novikov during the "Seven Years of Anti-corruption Reform" conference dedicated to the International Anti-Corruption Day. Today, ...