10 out 138 8122 results. Refine criteria for best results.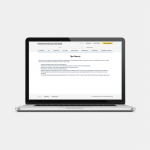 Publishing Date: January 6, 2021
In late 2020, the National Agency on Corruption Prevention (the NACP) updated the Unified State Register of Declarations of Persons Authorized to Perform Functions of the State or Local Self-Government (the Register of Declarations). We strived to make the Register more convenient and user-friendly, and easy-to-use both for declaring subjects who file electronic documents to the Register, and for users of the publicly accessible part thereof. Let's discuss in more detail the major advantages of the updated Register of Declarations: Convenient search of declarations in the public par...