10 out 165 8122 results. Refine criteria for best results.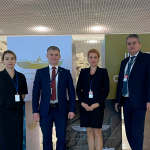 Publishing Date: December 13, 2021
Oleksandr Novikov, the Head of the National Agency on Corruption Prevention, who is participating in the 9th session of the Conference of the States Parties to the United Nations Convention against Corruption taking place in Egypt this week, has held a working meeting with the Agency for Prevention of Corruption of Serbia and the Conflict of Interest Commission of Croatia. Ukrainian priorities during the Conference have been targeted on the discussion of the automation of work processes and the development of effective anti-corruption IT solutions used globally. The Head of the Committ...