10 out 138 8122 results. Refine criteria for best results.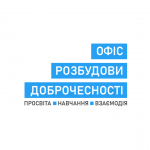 Publishing Date: December 9, 2020
On December 9, the International Anti-Corruption Day, the Integrity Building Office, launched its own webpage. The Integrity Building Office is a new program area of the National Agency on Corruption Prevention (NACP) and was established after the Agency's reboot. The Office is responsible for awareness-raising and training activities, as well as interaction with civil society. The mission of the Office is to launch change in order to build an integrity-based society. "Integrity and openness are essential in preventing corruption. The Integrity Building Office has been active since July ...