10 out 165 8122 results. Refine criteria for best results.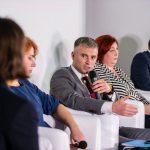 Publishing Date: October 27, 2021
October 27, 2021, marks one year since the decision of the Constitutional Court of Ukraine (CCU) № 13-r / 2020, that affected Ukraine's e-declaration system, blocked the work of the National Agency on Corruption Prevention (NACP) for three months, and threatened the functioning of the anti-corruption infrastructure. To recall these events and discuss how to prevent such a situation from re-emerging in the future, representatives of anti-corruption bodies and civil society activists took part in the discussion "Constitutional Crisis: a Year After". Ambassador Matti Maasikas, Head of th...