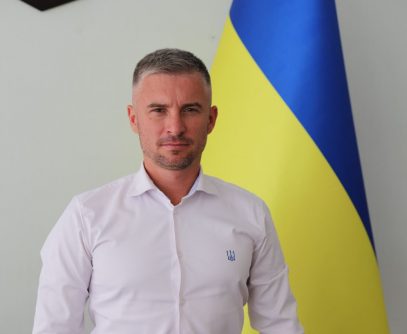 Oleksandr Novikov
Head of the National Agency on Corruption Prevention
Contacts
Head of the National Agency on Corruption Prevention 
Born on March 6, 1982 in the city of Sumy.
Education
In 2022, graduated from the Kyiv-Mohyla Business School (KMBS). Also studied abroad (ILEA Budapest — International Law Enforcement Academy, 2015; NATO School Oberammergau, 2022), in particular, attended international training on deanonymization of financial transactions, including Bitcoin.
2003-2004 — study at the National Academy of Prosecution of Ukraine.
From 1999 to 2004, he studied law at the National University "Yaroslav the Wise Law Academy of Ukraine".
Professional activity
On January 15, 2020, the Cabinet of Ministers of Ukraine appointed Oleksandr Novikov as the new head of the NACP.
This was the first competition for the position of the head of the central executive body, where international experts had the decisive vote in the commission of 6 people (Vitaly Shabunin, Kateryna Ryzhenko, Olga Kobylynska, Tilman Hoppe, Goran Klymenych, Michael Sears) in accordance with the provisions of Article 6 of the Law of Ukraine "On prevention of corruption".
Worked in the prosecutor's office for over 16 years (from 2004 to 2020). In particular, he supervised the observance and application of laws by all types of state and local self-government bodies, supported the state prosecution in cases of combating organized crime, cybercrime and economic crimes.
2014-2020  — Prosecutor of the Unit of Procedural Management of Pretrial Investigations and Support of State Prosecution, Department of Law Enforcement Supervision by Bodies Fighting Organized Crime, Department of Law Enforcement Supervision in Criminal Proceedings and Coordination of Law Enforcement Activities of the General Prosecutor's Office of Ukraine
2012-2014 — Prosecutor of the Unit of Protection of Financial and Economic Interests of the State of the General Prosecutor's Office of Ukraine
2011-2012 — prosecutor of the Unit of Supervision of Compliance with Laws by Internal Affairs Bodies during Inquiry and Pretrial Investigation of the Sumy Oblast Prosecutor's Office
2007-2011 — Prosecutor of the Unit of Protection of Constitutional Rights and Freedoms of Citizens and State Interests of the Sumy Oblast Prosecutor's Office
2004-2007 — investigator and assistant prosecutor of the Prosecutor's Office of Sumy