Year After NACP Reboot: Our Work In Numbers
January 15, 2021, marks a year since the official start of the National Agency on Corruption Prevention (NACP) work after the reboot. A year ago on this day, the Cabinet of Ministers of Ukraine appointed Oleksandr Novikov as a Head of NACP based on the results of a transparent competition for this position.
Naturally, the constitutional crisis has put the NACP's work on pause lasting two months. We are convinced that the well-known decision of the Constitutional Court was a consequence of our hard work and dedication to combating high-level corruption in Ukraine.
We are proud to say that renewing the cooperation with the international partners was the first step of our journey last year, following a number of successful joint projects.
We would like to thank you for all your support and cooperation during the last year and present the main results of our work, many of which we certainly achieved together.
We are looking forward to the new joint accomplishments this year, among which are the approval of the Anti-corruption Strategy in the second reading, the development of the whistleblowers portal, and the full transition of political parties to reporting in digital format.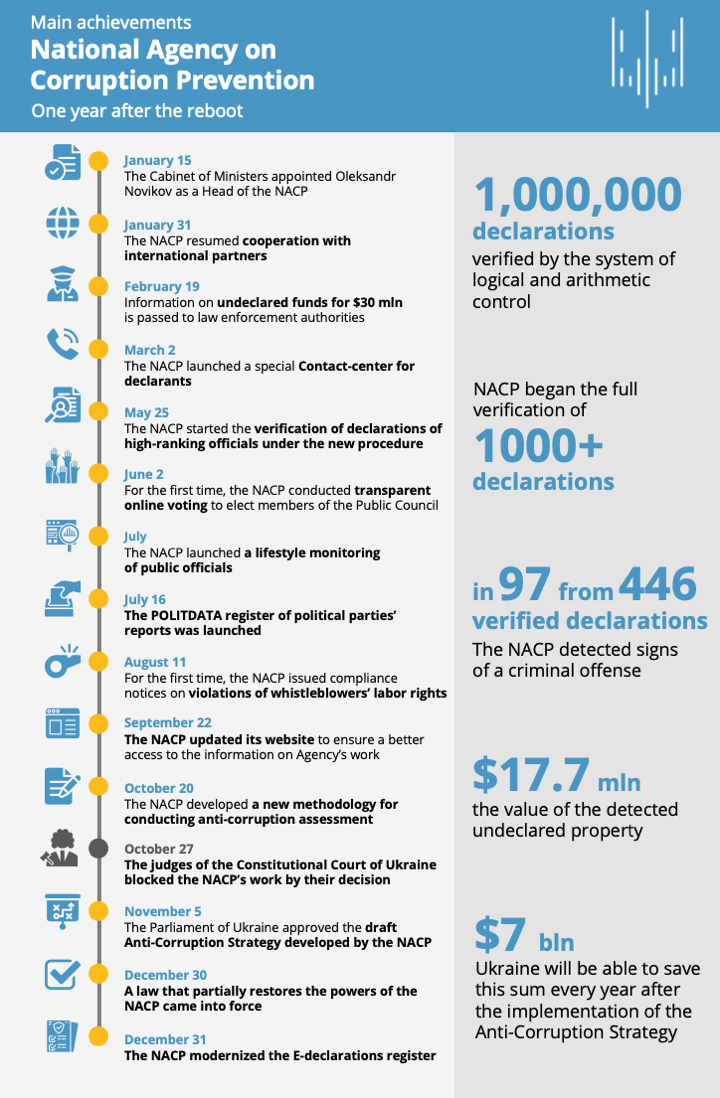 VIDEO: HEAD OF NACP OLEKSANDR NOVIKOV ON THE ANNIVERSARY SINCE THE NACP REBOOT
"We believe that the Anti-Corruption Strategy is capable of transforming Ukraine into a state where integrity is considered to be the highest value. […] Because public service must be virtuous, and corrupt practices must become our past."
Print version