NACP Received More Than 900,000 E-Declarations Of Ukrainian Officials
May 31 marked the final date for submission of e-declaration in Ukraine. This year, due to measures related to the spread of coronavirus disease (COVID-19), the officials had 5 months to submit their declarations (from January 1 to May 31).
Ukrainian officials submitted some 909,000 e-declarations this year, about 907,000 of which are the annual declarations of incomes and properties – 84,000 more annual public declarations comparing to last year's results.
This became possible due to the major change in the National Agency on Corruption Prevention's (NACP) approach to preventing the non-submission of declarations. Instead of just filling the protocols, NACP cooperates with the National Police and authorized units (persons) of all authorities to inform declarants on their obligation (see details below).
NACP staff have already started to verify 454 declarations. These include declarations of top officials: prime ministers, ministers, deputy ministers, and judges of higher courts. If a high-ranking official's declaration for 2018 is available, it is verified as well.
According to the new Procedure developed by NACP, the authorized employee has 120 days to conduct the verification of declaration. In certain cases, the term may be extended for 60 more days.
In accordance with the same Procedure, NACP also verifies declarations of officials who became the subjects of journalists' investigations and citizens' appeals. The list of these persons includes members of parliament, managers of state enterprises, prosecutors, judges, customs officers, employees of the State Fiscal Service, National Police.
In cooperation with the State Security Service (SBU), NACP declassified annual declarations of SBU senior officials. For the first time, the employees of intelligence bodies and those officials who perform counterintelligence and intelligence activities are also required to submit their declarations in accordance with the special procedures that ensure data security. These special procedures were developed by the NACP Internal Control Department.
---
PROCESS OF E-DECLARATION SUBMISSION IN NUMBERS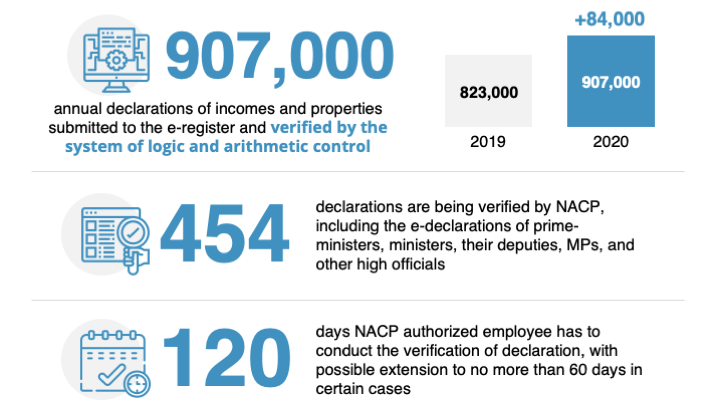 ---
SERVICES FOR DECLARANTS
NACP ensured that declarants have decent access to information on how to fill the e-declaration:
Call Center was transformed into a separate department of NACP. As a result, the number of lost calls was reduced from 62% to 15%. Due to this, the number of calls decreased by 3.5 times as most users were able to reach the Call the Center from their first attempt.
NACP technical support processed some 93,000 emails related to the technical issues. Thanks to the better communication with the declarants, this year NACP has 70,000 fewer requests for technical support. 
Simple and clear answers to 150 most frequent questions on e-declaration filling are developed and made available on the deklaruy.org.ua webpage.
In cooperation with civil society, NACP resumed the work of Civil Servant Taras chatbot, available in the most popular social networks and messengers. The service engaged more than 4,000 declarants.  
This year, NACP will continue to work on improving the e-declaration process. NACP believes that it should be more convenient for declarants, while also serving Ukrainian citizens as an efficient tool for controlling the integrity of public figures.
Print version